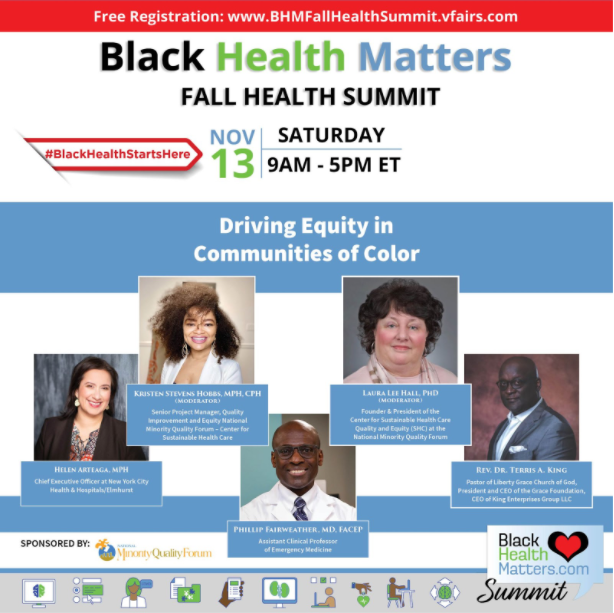 Washington, D.C. (Nov. 4, 2021)—On Saturday, Nov. 13, National Minority Quality Forum's Center for Sustainable Health Care and Equity (NMQF/SHC), will host a panel at Black Health Matters' Fall Health Summit to address the physical, emotional and social aspect of health for a balanced health experience in communities of color.
The panel will feature New York City Health & Hospitals/Elmhurst's CEO Helen Arteaga, MPH; SHC's Founder and President Laura Lee Hall, PhD, and Senior Project Manager Kristen Stevens Hobbs, MPH, CPH; Assistant Clinical Professor Phillip Fairweather, MD, FACEP, and Liberty Grace Church of God's pastor the Rev. Dr. Terris A. King.
SHC's Health Champions, a recruitment program to assist healthcare providers, community leaders and key stakeholders in underserved areas to educate their communities on important health issues, and the HAIR Wellness Warriors, which is an NMQF-SHC Health Champions' program focused on educating and vaccinating communities of color through salons and barbershops, will have booths at the Black Health Matters Summit to share their mission.
Register today at http://ow.ly/PGmA50GyEuj.
NMQF-SHC's flu and COVID-19 vaccine initiatives are supported by funding from the U.S. Centers for Disease Control and Prevention. Its flu initiatives also receive support from Sanofi Pasteur.
###
Media Contact
Kelly Ann Collins
kcollins@nmqf.org
(202) 413-1187
About National Minority Quality Forum
The National Minority Quality Forum (NMQF) is a 501(c)(3) not-for-profit research and advocacy organization based in Washington, DC. The mission of NMQF is to reduce patient risk by assuring optimal care for all. NMQF's vision is an American health services research, delivery and financing system whose operating principle is to reduce patient risk for amenable morbidity and mortality while improving quality of life. NMQF's capabilities include federal and state policy analysis and advocacy; issue-specific alliance development; community-based provider quality improvement initiatives, and data analytics.
About Centers for Disease Control and Prevention (CDC)
CDC works 24/7 protecting America's health, safety and security. Whether disease starts at home or abroad, is curable or preventable, chronic or acute, or from human activity or deliberate attack, CDC responds to America's most pressing health threats. CDC is headquartered in Atlanta and has experts located throughout the United States and the world. Learn more at cdc.gov.