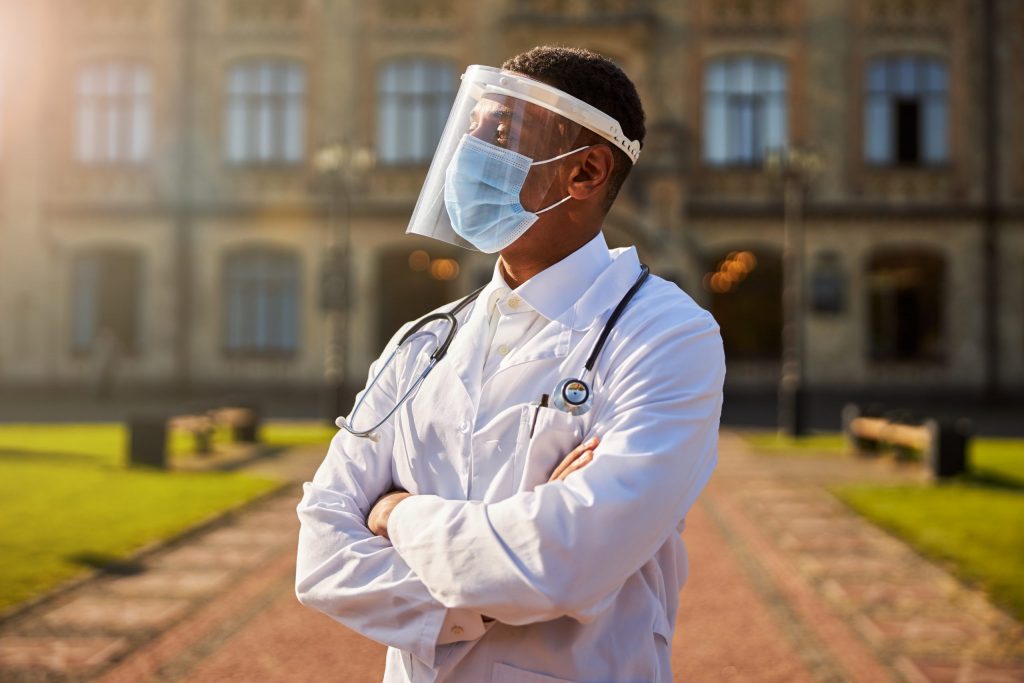 This research is working to address health disparities, and to inform public health response in communities of color.
As the U.S. continues to face the COVID-19 pandemic, which has disproportionately impacted communities of color, Centene Corporation (NYSE: CNC), a leading multi-national healthcare enterprise, and the National Minority Quality Forum (NMQF), an independent research and educational organization dedicated to ensuring high-risk racial and ethnic populations receive optimal healthcare, announced today a research partnership for the "Minority and Rural Coronavirus Insight Study (MRCIS)" to assess the impact of COVID-19 on racial minorities and underserved communities across the country.
Racial Minorities, Underserved Populations Disproportionately Impacted by COVID-19
While the effects of the pandemic are still emerging, current data suggests certain populations are more vulnerable than others. In addition to those age 65 and older, recent data suggests the virus is having a disproportionate impact on communities of color.
According to a recent study from APM Research Lab, African Americans are dying from the virus at nearly three times the rate of white Americans. Further, in 42 states plus Washington D.C., Hispanics/Latinos make up a greater share of confirmed cases than their share of the population. In eight states, it's more than four times greater. And in states that categorize Native Americans in demographic results, early data indicates dramatically disproportionate rates of infection and death. In New Mexico, for example, Native Americans make up less than 10% of the population but over one-third of coronavirus cases.
"Over the past few months, we have experienced a world upended by a global pandemic and a country faced with civil unrest," said Michael F. Neidorff, Chairman, President and CEO of Centene. "As a company providing health coverage to one in 15 Americans, we remain committed to taking action and playing a vital role in protecting the health of our members and local communities by identifying healthcare solutions to help address health disparities impacting our most vulnerable citizens."
"The pandemic has shined a bright light on what we have known for decades: throughout our nation's history, racial minorities have experienced reduced access to healthcare, higher rates of chronic conditions and, ultimately, higher rates of mortality across a range of health conditions," said Gary Puckrein, President and CEO of NMQF. "With so many minority populations serving in essential roles on the front lines of this pandemic, we have an urgent need to provide them with accessible, equitable healthcare."
A Focus on Testing and Research to Raise Awareness, Increase Access
MRCIS is a prospective longitudinal study of the risk factors associated with the disproportionate impact that coronavirus is having on racial minorities and rural communities. Centene, NMQF, and a range of other public and private healthcare entities including Quest Diagnostics, will conduct COVID-19 PCR testing (to confirm current COVID-19 infection) and antibody testing (to confirm previous COVID-19 infection) at federally qualified health centers (FQHCs) in five states across the country. Quest will also contribute its Health Trends data to support the research.
Testing will be available to the general public at no cost. All testing locations were pre-identified based on various demographic characteristics, including a high proportion of African American deaths in proportion to the overall state population and a presence of communities of color that have been disproportionately impacted by COVID-19.
The MRCIS will utilize a phased-in approach to follow a volunteer cohort of 5,000 racial and ethnic minority participants for five years to examine the impact of COVID-19 on them and their families. Those who test positive for COVID-19 will receive monitoring kits and a daily call from providers for the first 14 days to provide medical advice and help monitor any progression of symptoms, followed by once-per-week calls for one month.
Centene and NMQF have convened researchers and academics from across the country to analyze and translate survey data, and, based on the findings, provide valuable data and evidence-based solutions to inform the public health response and help reduce healthcare disparities among underserved populations. Members of the research team include:
PRINCIPAL INVESTIGATOR:
Olakunle Akinboboye, MD, MPH, MBA – Medical Director, Queens Heart Institute
INVESTIGATORS:
Gloria Wilder, MD MPH – VP, Innovation and Health Transformation and Government Relations, Centene Corporation
Gary A. Puckrein, PhD – President and Chief Executive Officer, National Minority Quality Forum
William A. Meyer III, Ph.D., D(ABMM), MLS(ASCP)CM – Director, Medical Science Liaison, Infectious Diseases/Immunology, Quest Diagnostics
Latrice Landry, PhD, MMSc, MS – Fellow, Brigham and Women's Hospital, Dana Farber Cancer Institute and Harvard Medical School
LaTasha Lee, PhD, MPH – Vice President Social and Clinical Research & Development, National Minority Quality Forum
RESEARCH SITES & SITE INVESTIGATORS:
---
About Centene's Communities Together in Health Initiative
The "Minority and Rural Coronavirus Insights Study (MRCIS)" research partnership falls under Centene's broader Communities Together in Health, an initiative led by Centene to help raise awareness around health disparities.
Amid the COVID-19 pandemic Communities Together in Health is working to engage key healthcare stakeholders – including members, providers, community leaders, nonprofit organizations, tribal governments and government officials – to help address disparities in the healthcare system, while recommending evidence-based solutions and policies to further address health disparities across the country.
About National Minority Quality Forum
National Minority Quality Forum assists health care providers, professionals, administrators, researchers, policymakers, and community and faith-based organizations in delivering appropriate health care to minority communities. This assistance is based on providing the evidence in the form of science, research, and analysis that will lead to the effective organization and management of system resources to improve the quality and safety of health care for the entire U.S. population, including minorities.LaTasha Lee, PhD, MPH – Vice President Social and Clinical Research & Development, National Minority Quality Forum