A Call for Community-Driven
Equity in Flu Vaccination
INCREASED FLU VACCINATION HAS NEVER BEEN MORE IMPORTANT TO COMMUNITIES OF COLOR
NMQF convened experts, clinicians, and community leaders to review flu vaccination equity and identify any necessary steps to assure protection for communities of color. Persistent growing racial and ethnic flu vaccine disparities were found. With the continuing impact of COVID-19 and mistrust, expanded efforts are needed, in collaboration with community leaders, to optimally protect communities of color from the flu and COVID-19.
SHC can help you identify approaches that best suit your health system and practices, with expert coaching and financial assistance to implement strategies that improve flu vaccination rates. Contact shc@nmqf.org for more information about how we can support your efforts. To read more about how the DRIVE framework can help you build flu vaccine equity, download the brochure or click here to explore the DRIVE module.
Download the DRIVE Framework Brochure

Get started with your flu vaccine QI project using the free DRIVE toolkit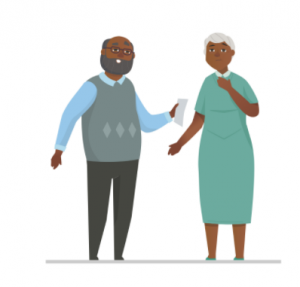 There are growing racial and ethnic disparities in flu vaccination despite their increasing importance.
Inequity in flu vaccination among people of color is large and growing, including in public programs and nursing homes.
Flu vaccine disparities place communities of color at increased risk of serious illness and death from the flu at a time when the COVID-19 pandemic has taken a large toll and threatens to do so again in the 2020-21 flu season.
Reducing respiratory illnesses in the community is important to protect at-risk populations and the healthcare system that serves them.
Primary care teams, pharmacists, specialists, other care providers, community leaders, and patient advocates can close the gap.
With quality improvement methods and a strong recommendation, healthcare teams can increase flu vaccination rates in their patients. COVID-19's impact requires the involvement from more types of providers and strategies to safely ease vaccine access. The voice of community leaders and advocates will be essential to educate the public about the risks posed by the flu and the safety, efficacy, and importance of flu vaccines.
See information comparing COVID-19 and flu, including shared risk factors
Access this guide to adjust your practice to COVID-19 safe workflow
Download resources for educating patients & community members about flu & vaccines