Chronic Kidney Disease: An Overview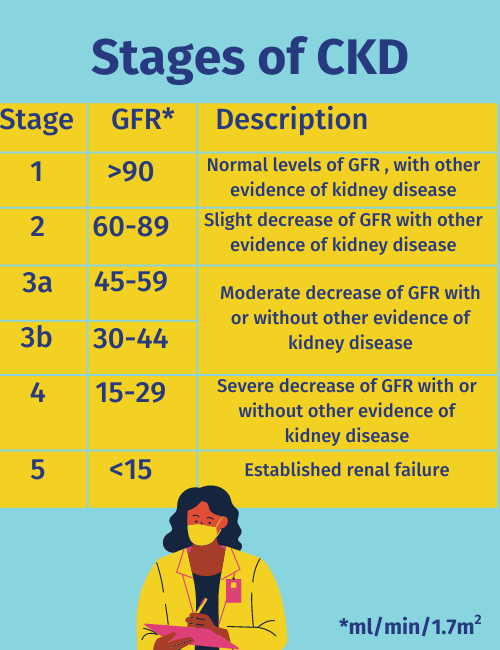 Chronic Kidney Disease (CKD) is a progressive loss of kidney function. In the beginning stages, there are often no symptoms. Overtime, CKD can progress to near complete kidney failure called End Stage Renal Disease (ESRD). This requires dialysis or transplantation. Most individuals do not progress to kidney failure.
37 million Americans are estimated to have CKD, 90 percent who are unaware of their condition.
Nearly 25% of beneficiaries in Medicare FFS were diagnosed (2018 data), a number that is increasing.

Causes include injury, infection or a genetic condition; lupus, diabetes, heart disease and hypertension are major factors. Family members of those with CKD are also at risk and ethnicities are at a higher risk as well.

Controlling risk factors, (such as managing diabetes and hypertension) for CKD, health screening, and medications are important components of CKD prevention and management.

Screening includes measuring protein in the urine and calculating GFR (glomerular filtration rate (GFR) shows how well the kidneys are filtering).
Interventions targeting specific symptoms (such as hypertension), or aimed at supporting educational or lifestyle considerations, can make a positive difference to people with CKD.
Your primary care team, diabetes educator, and social worker can help prevent, screen for, provide education and treatment; a nephrology specialist provides advanced care.
Chronic Kidney Disease and People of Color
CKD reveals many racial and ethnic disparities. People of color are:
More likely to develop CKD

16% of Black adults, 14% Hispanic adults, and 13% of white adults are estimated to have CKD

33% of Black Medicare FFS (Medicare fee-for-service) beneficiaries have CKD versus 23% of white beneficiaries

Less likely to receive recommended care related to CKD risk factors

For every white person who develops ESRD, 3 Black people develop ESRD
For every 3 non-Hispanic people who develop ESRD, 4 Hispanic people develop ESRD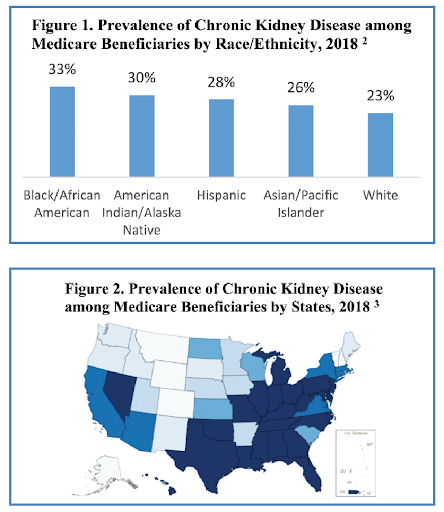 *The number of Medicare FFS enrollees with CKD also varied by geographic areas (Figure 2). Montana and Wyoming had the lowest prevalence rate (16%) and Florida had the highest prevalence rate (28%).
Less likely to reduce CKD risk by achieving recommended treatment goals for blood pressure, diabetes, and cholesterol control

More likely to progress from CKD to ESRD

Present with kidney failure at younger ages

Less likely to have been under the care of a nephrologist before starting dialysis

Experiencing increased delays for kidney transplantation

Median wait time is longer for Black patients (59.9 months) than for white patients (41.3 months)

Median wait time is longer for Hispanic or Latino patients (55.8 months) than for non-Hispanic patients (47.4 months)

Multiple factors contribute to CKD racial and ethnic disparities including: lack of access to primary and specialty care; mistrust of the health system; lack of knowledge about CKD; increased levels of risk factors; lack of access or resources to obtain healthy food; provider knowledge and implementation of quality care; patient health literacy; provider and system engagement with communities of color; systemic racism
CKD and People of Color: Resources
Chronic Kidney Disease and Vaccines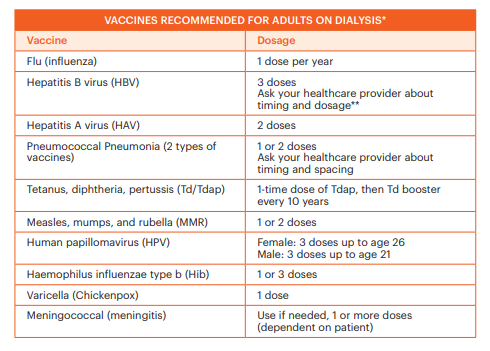 Patients with CKD have a higher risk of complications due to vaccine-preventable illnesses such as flu and COVID-19.
A person suffering from CKD is more likely to experience chronic dry cough and fatigue as a result of COVID-19. And job-related disabilities due to other illnesses.
In addition to getting vaccinated, it's important to protect yourself by taking additional precautions such as wearing a mask, washing your hands, social distancing, opting for outdoor events to keep yourself protected from COVID-19 and other illnesses when you have CKD.
CKD and Vaccines: Transplantation
People who have received a kidney transplant should receive age-appropriate inactivated vaccinations (a vaccine consisting of virus particles, bacteria, or other pathogens that have been grown in culture and then killed to destroy disease-producing capacity) as recommended for the general population.
People with a kidney transplant should not receive live vaccines.
It is best to wait until 3–6 months after a kidney transplantation, after immunosuppression is less intense, before getting a vaccine.
Family members, care-takers, household contacts and health care providers involved with people who have received a transplant should all be vaccinated.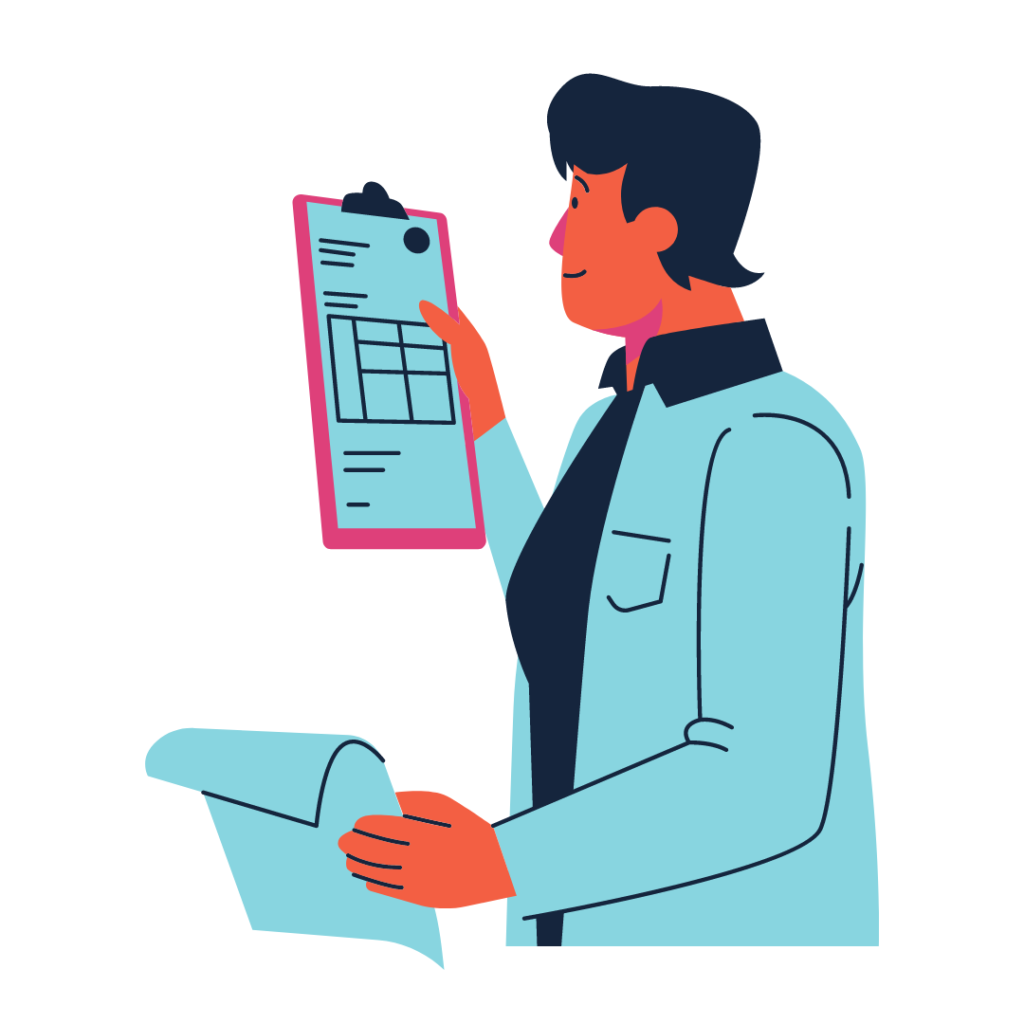 CKD and Vaccines: The Flu Vaccine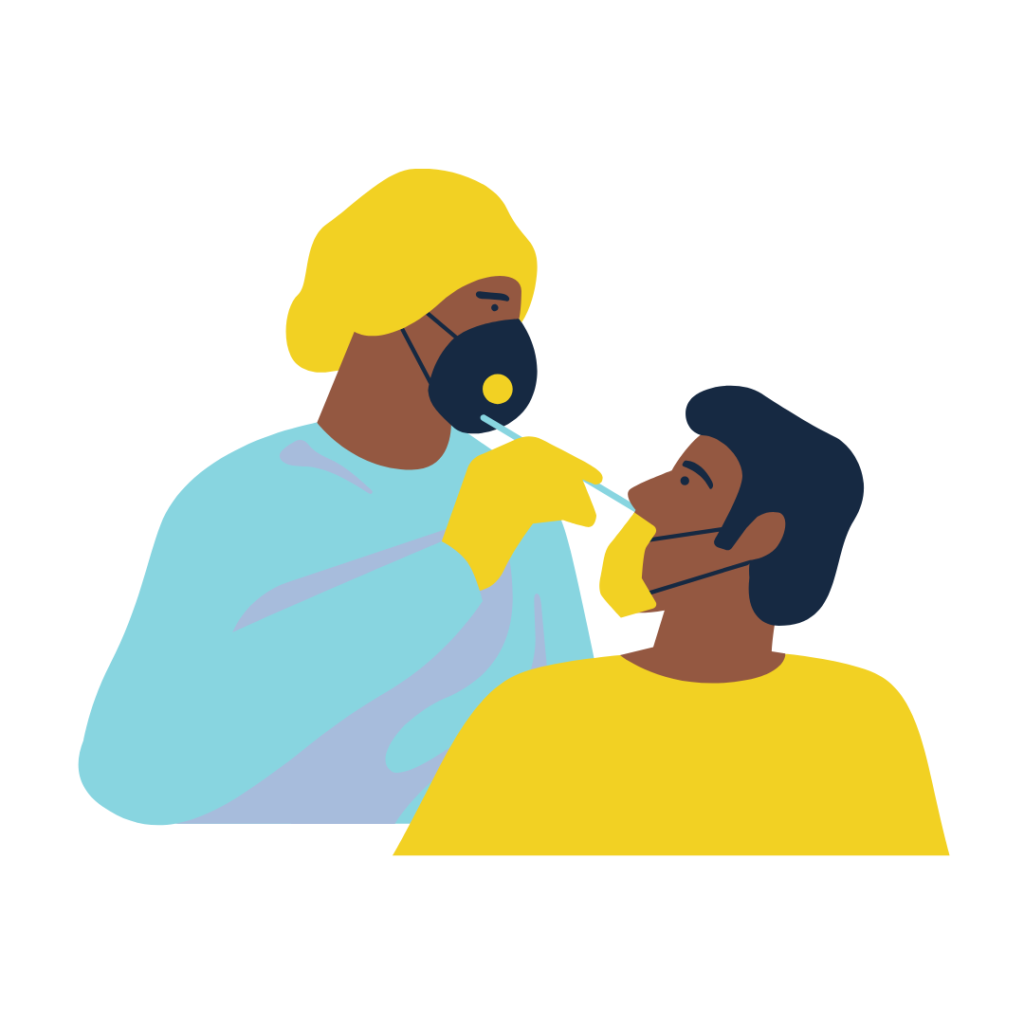 People at all stages of CKD, including those who have received a transplant or are undergoing dialysis, are at high risk of developing serious flu complications due to weakened immune response.
Annual flu vaccination is recommended to prevent serious illness of people with CKD. Injectable flu shots – NOT THE NASAL SPRAY – are recommended for use in people with CKD
Flu vaccination is associated with lower rates of hospitalization due to pneumonia/influenza and heart disease, especially with more advanced disease.
For more information you can check our Health Champions or SHC resources.
CKD and Vaccines: COVID-19
Patients of CKD have an increased likelihood of getting very sick from COVID-19.
Except for advanced age, it's now thought that CKD is the

 

most common risk factor

 

for severe COVID-19 worldwide.

A recent study found that people with COVID-19 and ESRD were 11 times more likely to be hospitalized than people who didn't have kidney disease.

People of color have added risk.

A significant number of patients who survive COVID-19 need kidney replacement therapy after leaving the intensive care unit.
It is important to continue with regularly scheduled dialysis treatments and take necessary precautions as recommended by health care providers.
If COVID-19 infection is suspected, seek a health care provider to see if treatment options are available.
People with a kidney transplant should keep taking anti-rejection medicines.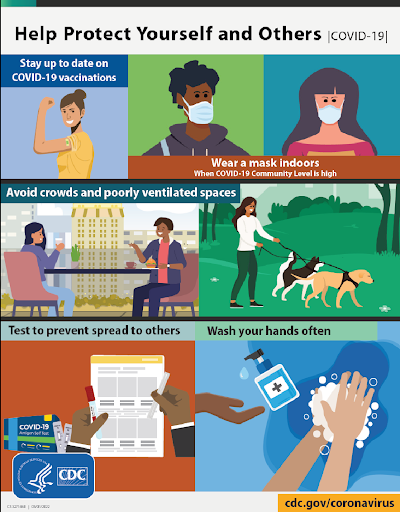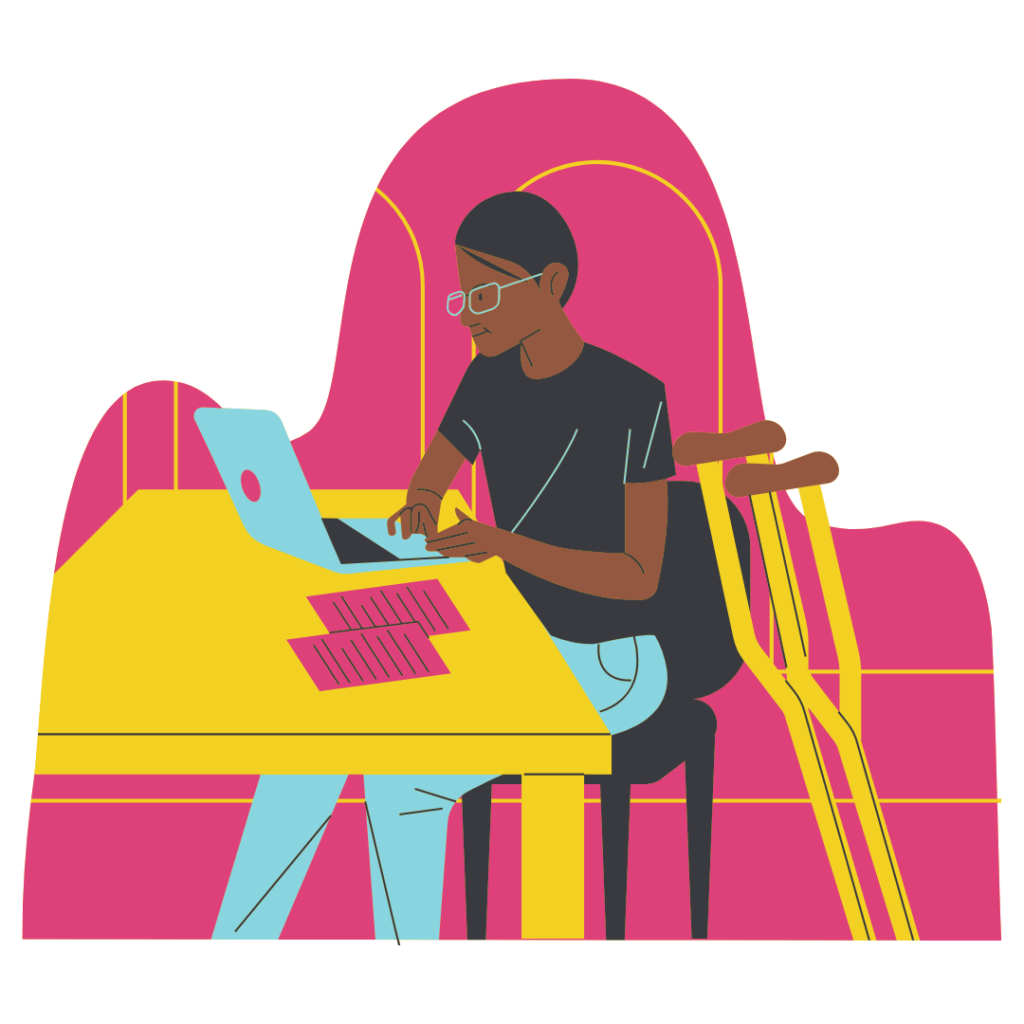 Patients of CKD should receive the COVID vaccine.
Currently, a total of four doses are recommended preferably with an mRNA COVID-19 vaccine – the Pfizer and Moderna vaccines.
Whenever possible, COVID-19 vaccines should be administered at least 2 weeks before initiation or immunosuppressive therapies.
In addition to vaccination, continue to take precautions, including: wearing a mask, social distancing, limit close contact, wash your hands often, avoid crowds and during an outbreak stay home as much as possible.
It is important for family and household members and care-givers to be fully vaccinated and otherwise minimize exposure.
Stay up-to-date by talking with your health care team and follow updates from the CDC and kidney.org.
CKD and Vaccines: Resources
Chronic Kidney Disease – The Patient and Caregiver Perspective
CKD is common among US adults, CKD patients can find comfort in knowing they are not alone in their struggles.

Creating a community of uplifting support is key when managing a chronic illness and living a healthy life. And this site is full of resources for CKD patients to find support and wellness tips for healthy living.

Watch Dietta's story from the National Kidney Foundation of Michigan for some inspiration and support.
Resources for CKD Patients and Caregivers
Watch Now: Kidney Disease, Health and You
Watch NMQF's Center for Sustainable Health Care Quality and Equity's and the National Kidney Foundation of Michigan for a Health Champion's discussion from the eyes of CKD experts and a patient voice. Originally aired March 25, 2022.
Health Champion webinars occur on the last Friday of each month. Be sure to subscribe to the Health Champions newsletter for details.
Panelists:
Yabo Beysolow, MD, COVID and Flu Immunization Vaccine Expert AIM and iREACH Program for CDC
Laura Lee Hall, PhD President, Center for Sustainable Health Care Quality and Equity National Minority Quality Forum
Cynthia Nichols-Jackson, Patient and Program Coordinator National Kidney Foundation of Michigan
Silas Norman, MD, MPH, Associate Professor, Nephrology University of Michigan
Kristen Stevens Hobbs, MPH, CPH, Senior Project Manager of Quality Improvement and Equity, Center for Sustainable Health Care Quality and Equity National Minority Quality Forum (Moderator)