Also known as high blood pressure or the "silent killer", hypertension is a condition where the blood moving from the heart to the body is pumped under high pressure. This can damage the organs and cause wear on the heart

Blood pressure = amount of blood pumped by the heart + amount of resistance (push back) to blood flow in the arteries

More blood pumped by the heart coupled with more narrow arteries leads to higher blood pressure 

It's measured in millimeters of mercury (mm Hg) and written as two numbers (for example, 112/78 mm Hg)

The top number – systolic pressure – is the pressure when the heart beats

The bottom number – diastolic pressure- is the pressure when the heart rests between beats
(High blood pressure (hypertension) 2021)
Healthy & Unhealthy Blood Pressure Ranges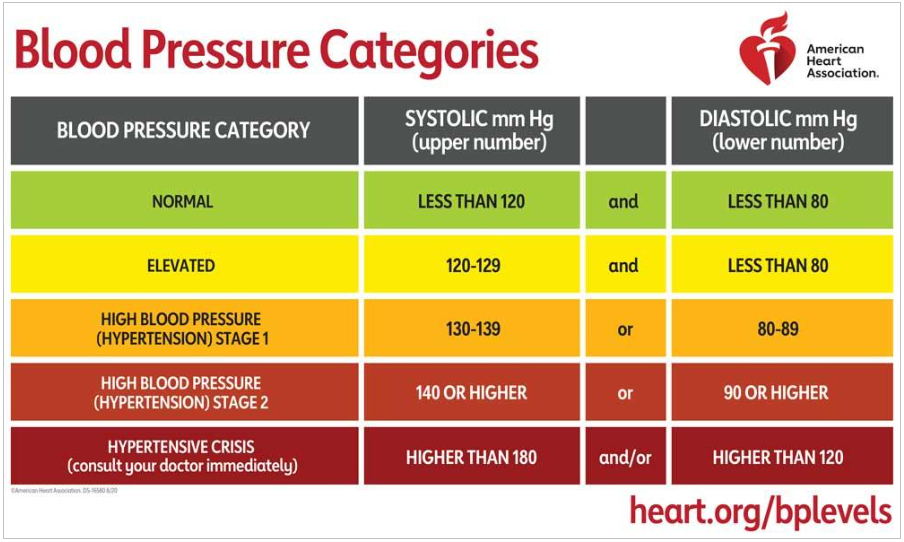 (Understanding blood pressure readings 2022)
Consistent high blood pressure can be harmful

Many people do not know they have high blood pressure

High blood pressure makes the heart work too hard and damages the blood vessels

The results, over time, include heart failure, heart attack, kidney disease, stroke, and vision loss

Knowing your numbers and making changes that can prevent or treat high blood pressure are keyany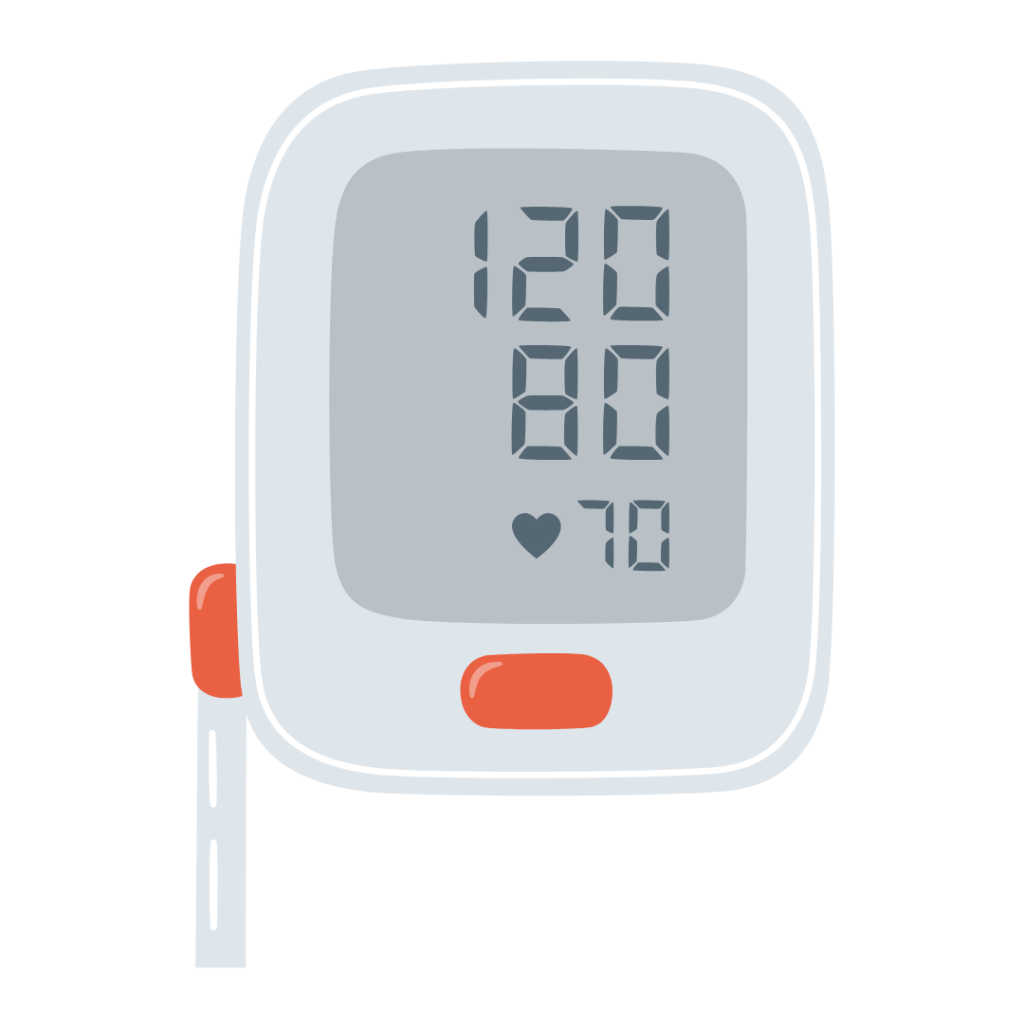 (What is high blood pressure? 2021)
American Heart Association Graphic of Potential Health Issues due to Hypertension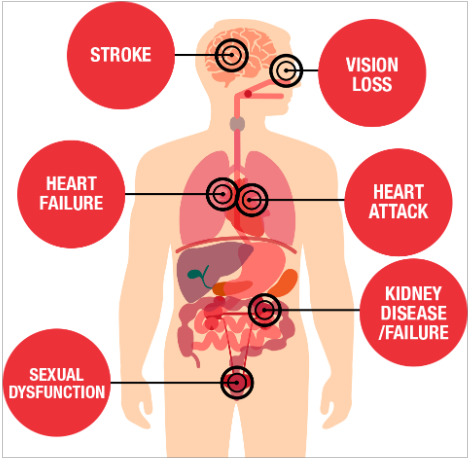 (What is high blood pressure? 2021)
Lifestyle Drivers of Hypertension
Inequities in Hypertension Outcomes
Inequities in Hypertension Outcomes
Disparate outcomes in hypertension are prevalent among historically excluded communities

Researchers studying the racial and ethnic differences in hypertension prevalence, awareness, treatment, and control found that Black adults living in the US between 2013 – 2018 have a higher hypertension prevalence than white adults (

45.3% versus 31.4% respectively) but have similar awareness and treatment rates as white adults.

Conversely, Hispanic adults have similar hypertension prevalence and treatment rates

than white non-hispanic adults

, but lower awareness (71.1%

awareness

in Hispanic adults versus 79.1% awareness in white adults)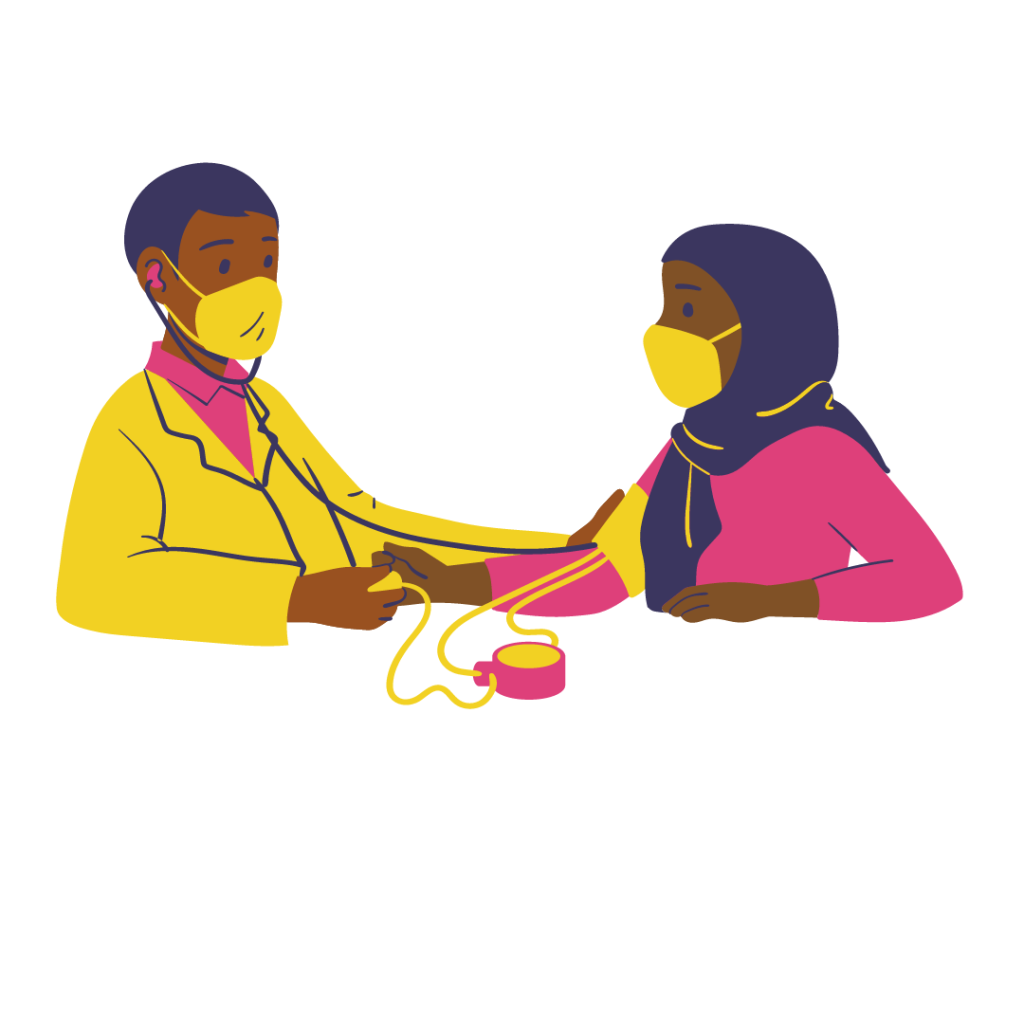 Black Americans and Hypertension
Black Americans in the U.S. have a higher prevalence of high blood pressure (HBP) than other racial and ethnic groups 

It is also often more severe in Black patients and some medications are less effective in treating Black patients with HBP

Unfortunately, death due to hypertensive heart disease is nearly two times higher among Black patients than white patients
Likewise, poorly controlled blood pressure during pregnancy and after childbirth is a leading reason Black women experience higher rates of pregnancy-related death than white women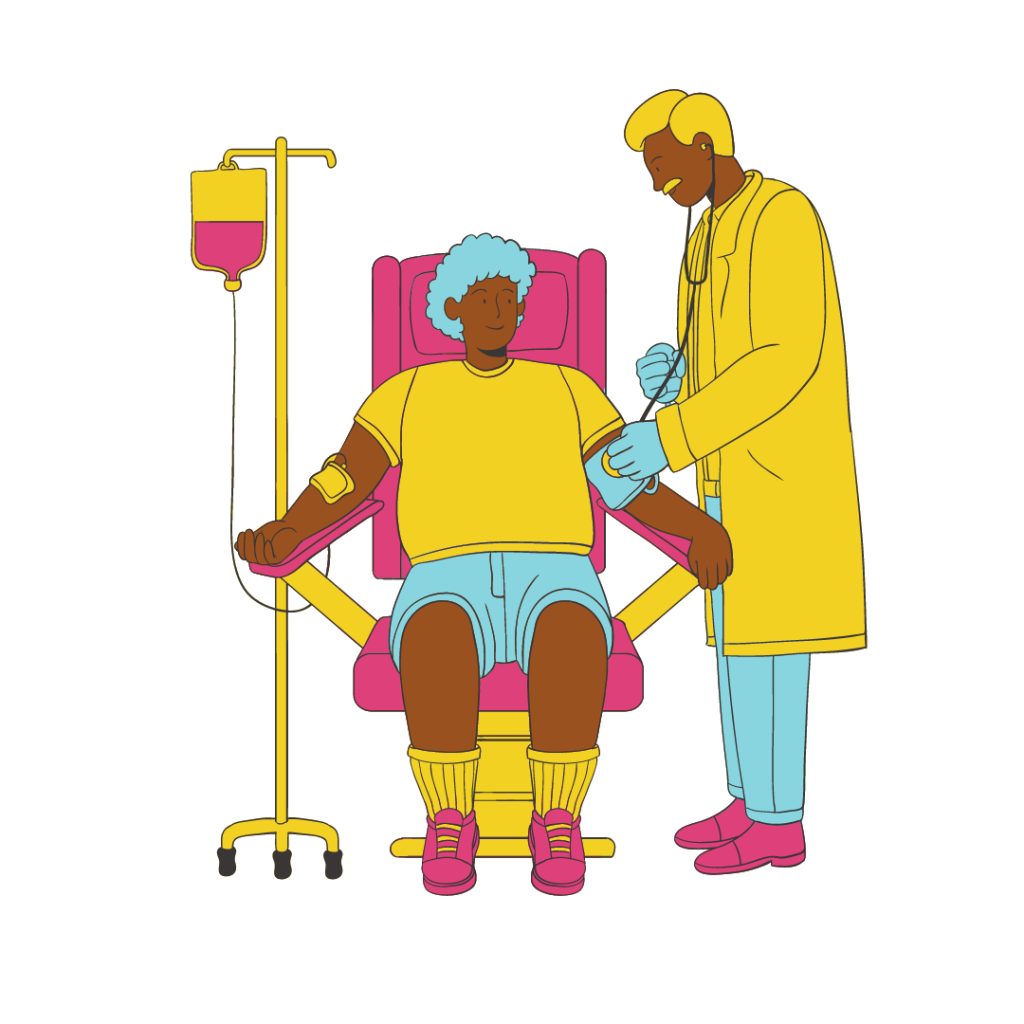 (Minority health month: Spotlight on hypertension 2022)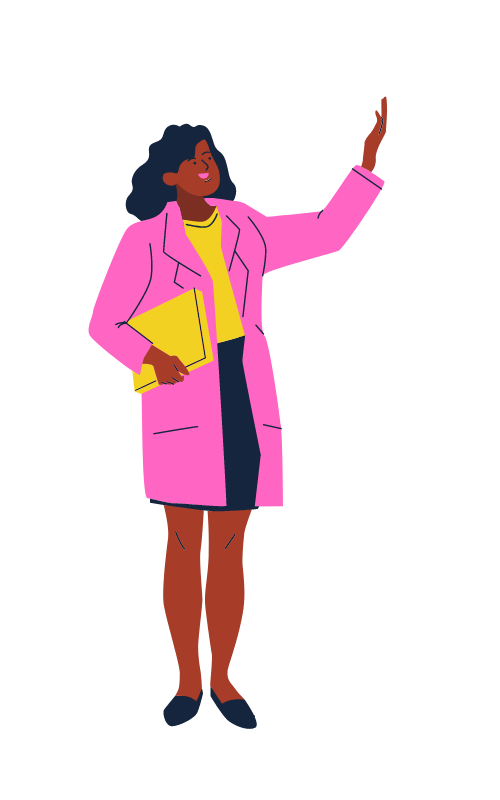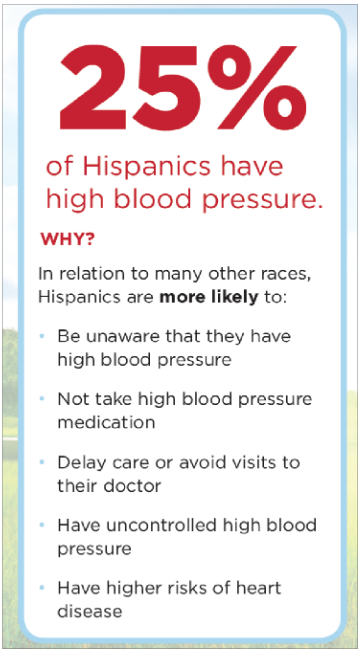 (National Hypertension Control Initiative: Printable Resources)
Drivers of Inequities in Hypertension
Researchers have also worked to identify the drivers of inequities in hypertension outcomes

The 4th Annual University of Utah Translational Hypertension Symposium discussed the intersections of the COVID-19 pandemic, hypertension and preexisting disparities in hypertension that were exacerbated by the pandemic
Factors that emerged from this discussion include:

Structural racism
The digital divide (e.g., unequal access to hi-speed internet and unequal digital literacy)
Lack of access to health insurance and/or healthcare
Lack of access to a built environment that empowers physical activity
Food insecurity
Diets lacking nutrient-dense foods
Resistant hypertension
Low health literacy
Distrust of the healthcare system
Provider biases (clinical and cultural uncertainty, beliefs, and stereotypes about minority patients)
Clinical inertia (clinicians' failure to initiate or intensify antihypertensive therapy when BP goals are unmet)
Resistant hypertension
Earlier hypertension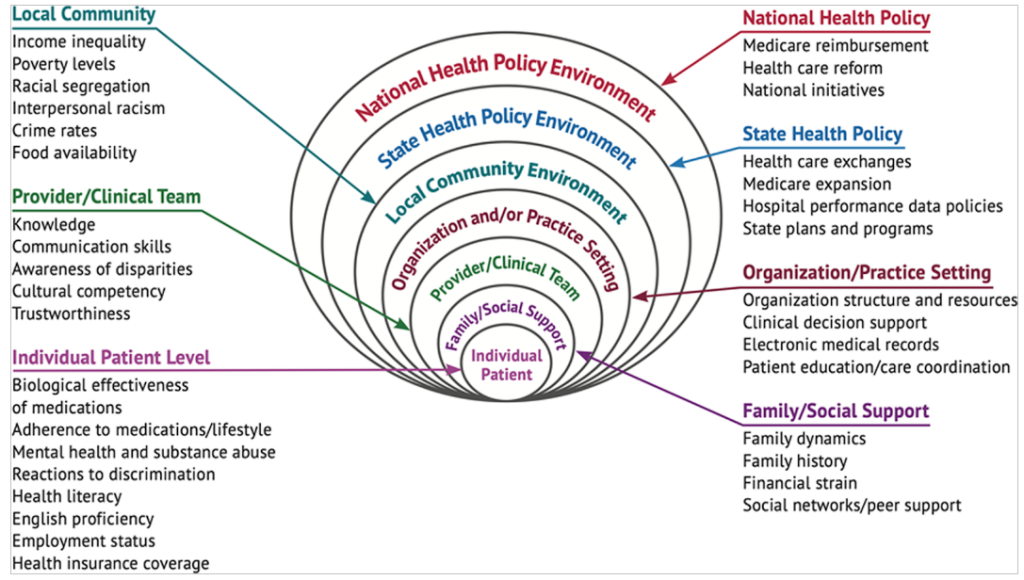 (Bress et al., 2021) Authors adapted with permission from Mueller et al., ©2015, Oxford University Press.
Hypertension and COVID-19
According to a review recently published in 2021, hypertension was identified as the most prevalent cardiovascular comorbidity in patients infected with the SARS-CoV-2 virus that causes COVID-19

Studies showed that a

COVID-19

would "demonstrably" increase the risk of hospitalization and death due to hypertension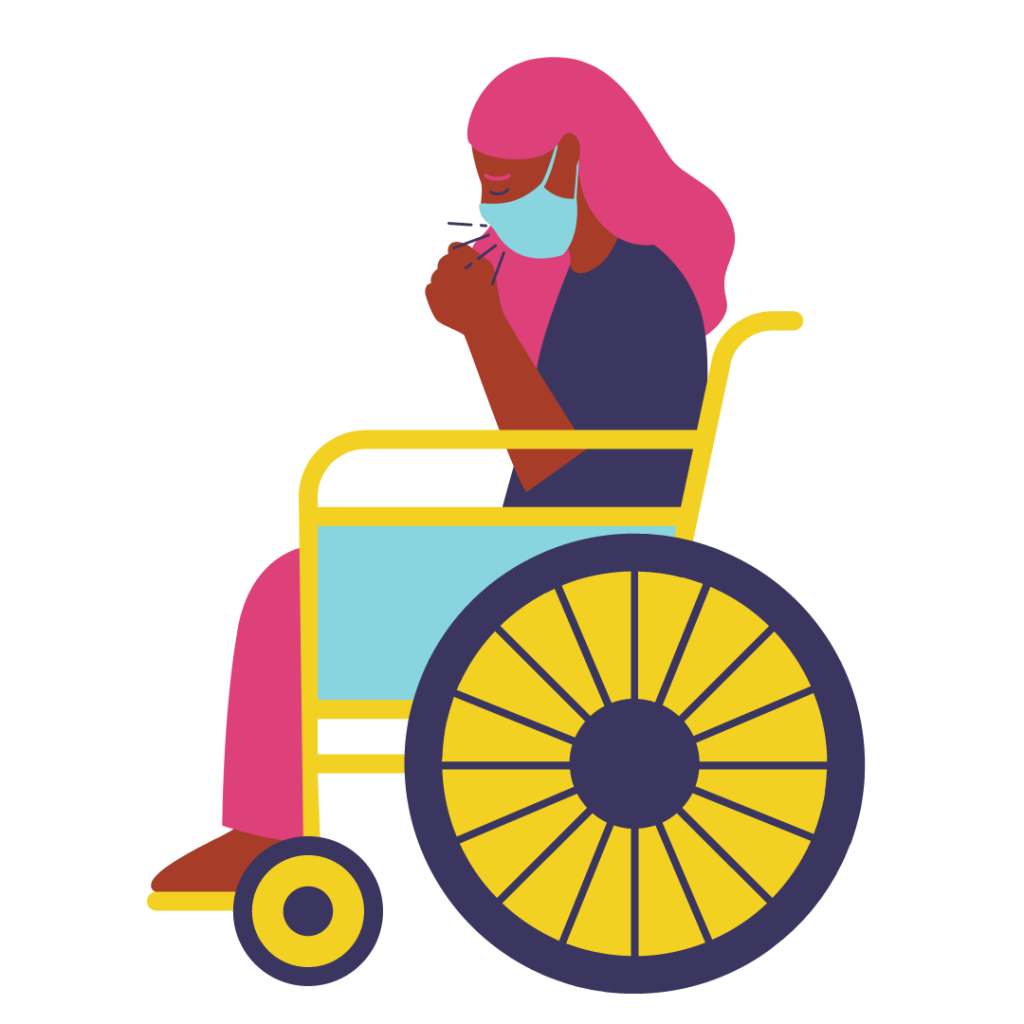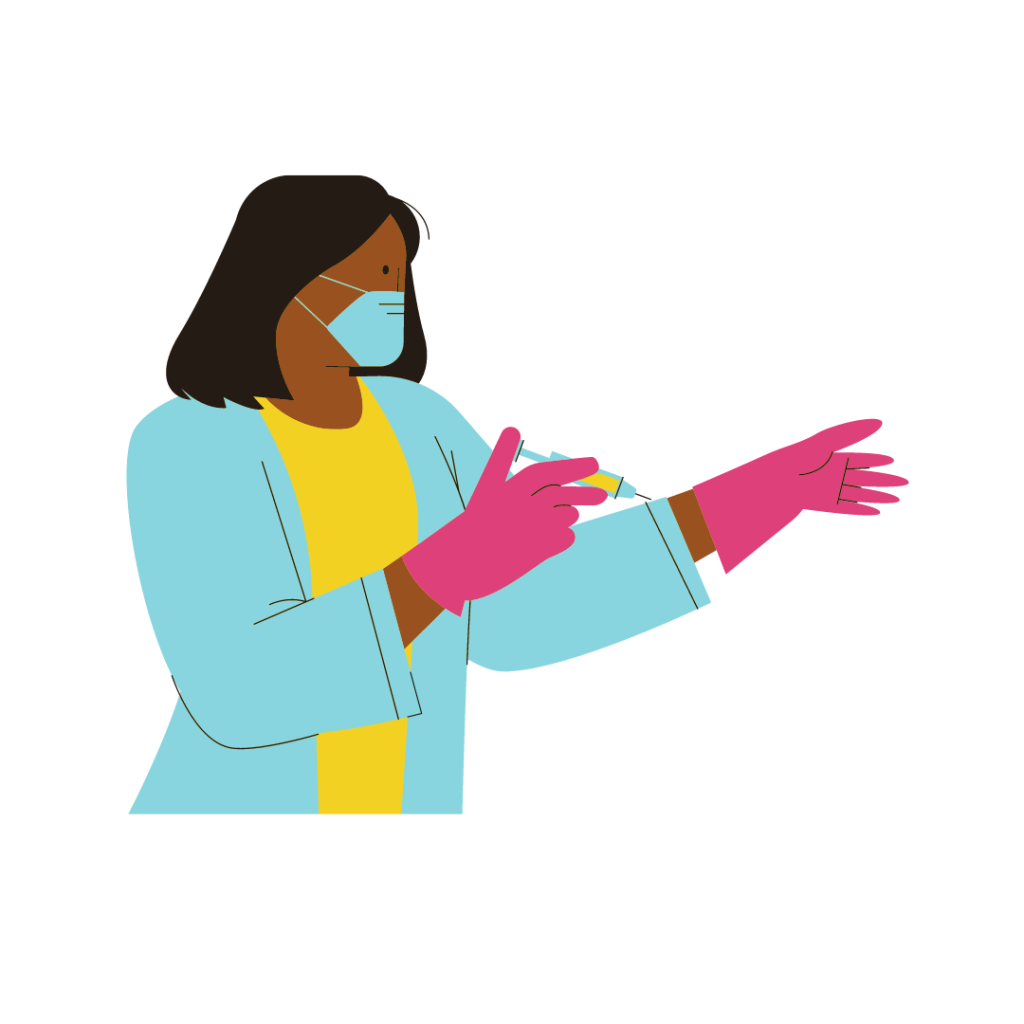 Medications for high blood pressure do not increase the severity of COVID-19
Being fully vaccinated and receiving all recommended boosters is the best protection against the risk of hospitalization and death from COVID-19 in patients living with hypertension
Consult your physician with any questions or concerns you may have
One study suggests that treating high blood pressure during the pandemic should involve telemedicine to manage the chronic illness

It notes that effective management and treatment of high blood pressure will be key in fighting COVID-19

Since racial and ethnic minorities are more likely to be hospitalized and/or die from COVID-19, and they often experience high blood pressure at higher rates, using new approaches like telemedicine will assist in fighting this illness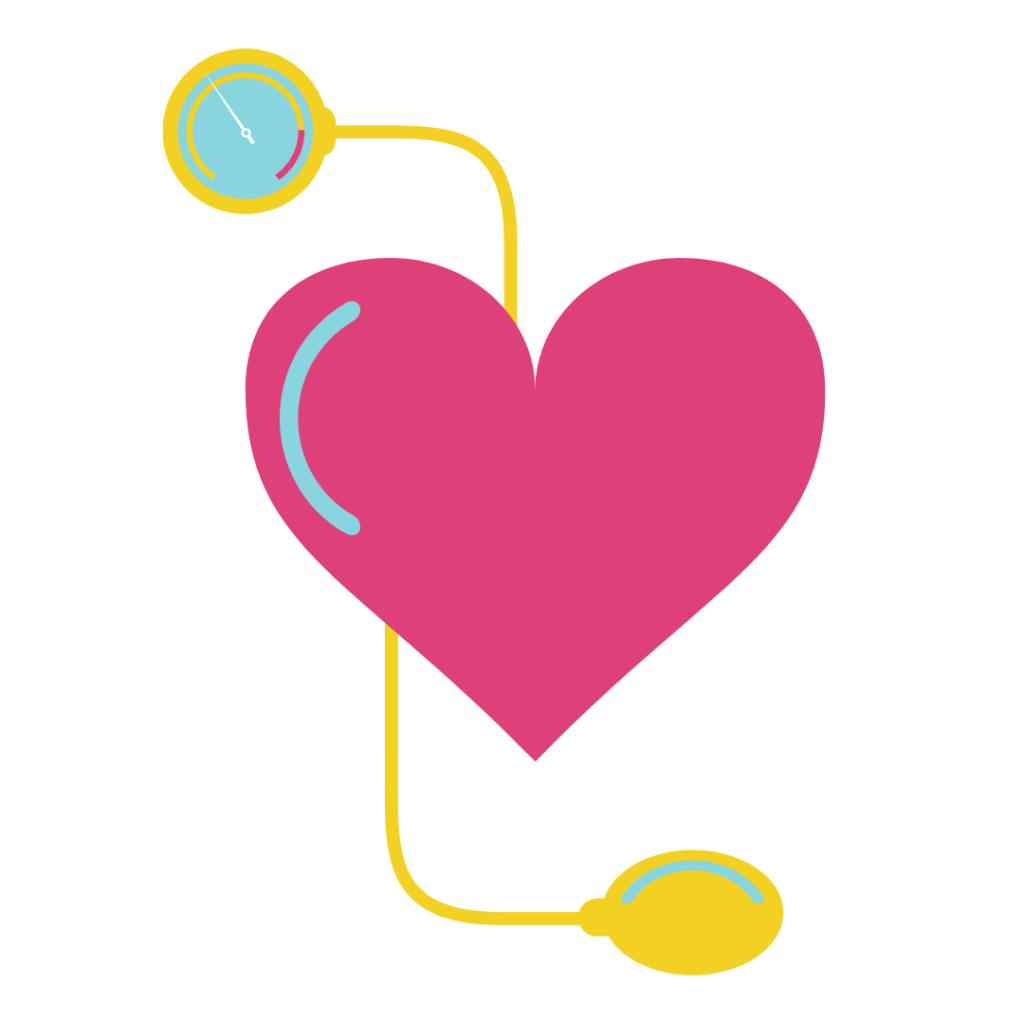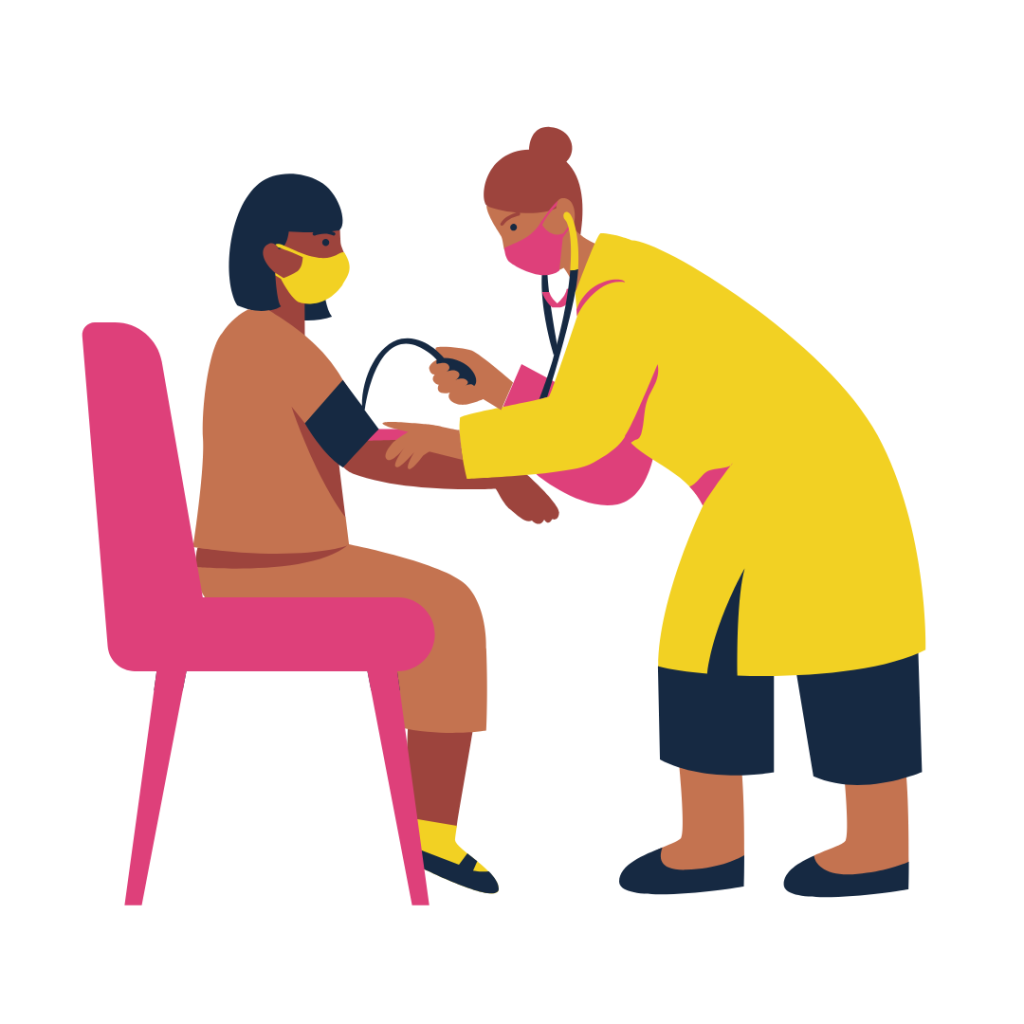 According to the AHA, patients living with high blood pressure have an increased risk of serious health issues due to flu

Patients with heart disease are more likely to die from an infection with influenza than patients with any other chronic condition

The AHA notes that flu symptom management is important, but understanding the risks of blood pressure elevation due to cold and flu medications is equally vital
"The American Heart Association and the American College of Cardiology recommend that people with cardiovascular disease, including those with coronary and other atherosclerotic vascular disease, get a flu shot annually."
People age 65 and older should try to get the high dose flu shot
Consult your physician with any questions or concerns you may have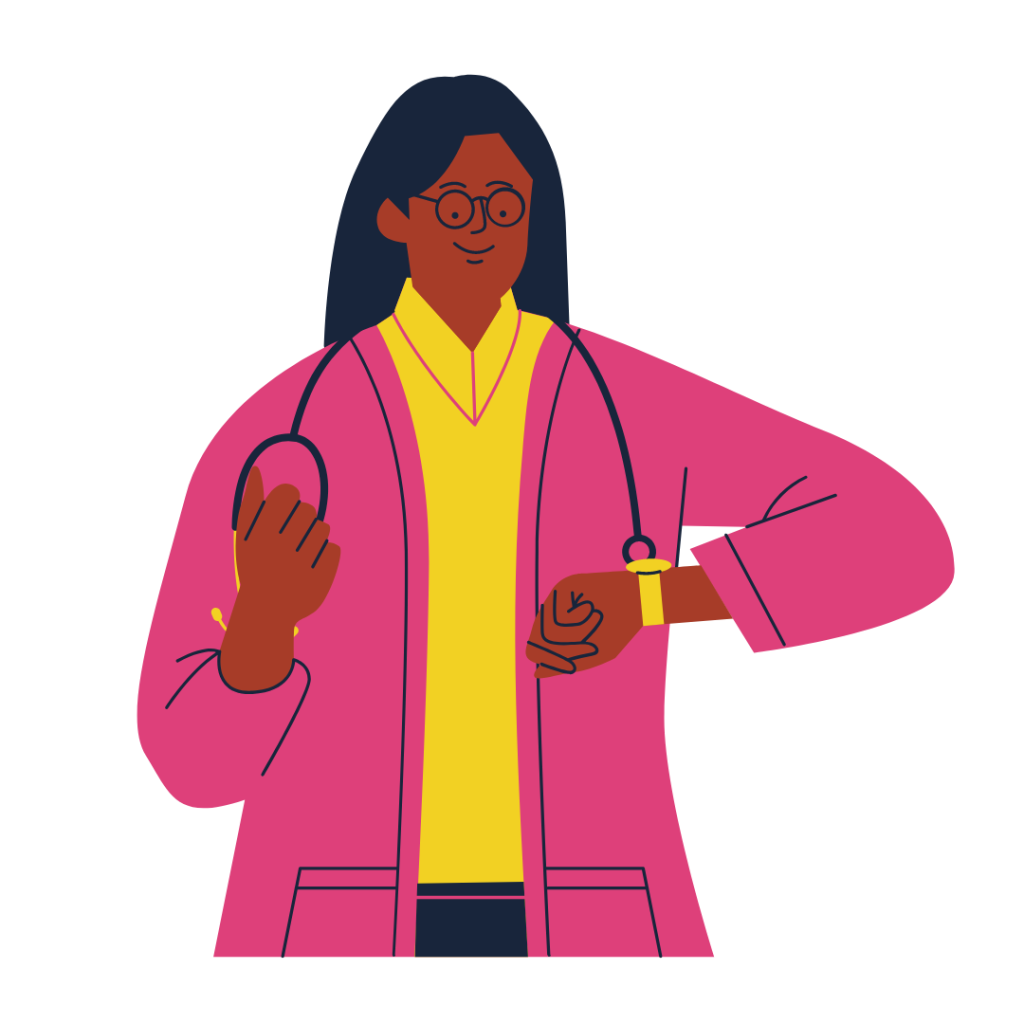 Hypertension and Adult Vaccines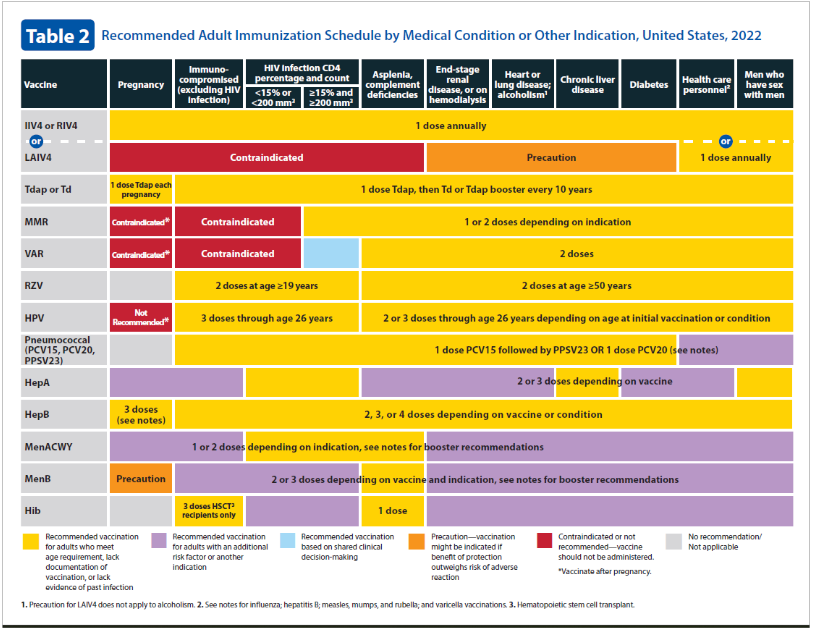 Disparities may occur across the cancer continuum of care.
Watch Now: Hypertension And Vaccines
Panelists:
Yabo Beysolow, MD, MPH, FAAP, COVID & Flu Immunization Expert, AIM and iREACH Program for Centers for Disease Control and Prevention
Dr. Yabo Beysolow is a pediatrician with over 20 years of experience in private practice and urgent care settings. She is also a public health professional with several years of work experience at the Centers for Disease Control and Prevention, CDC, in the Immunization Services Division, where Dr. Beysolow led as a Medical Officer and subject matter expert on immunizations, assisted in the development of and presented educational content for live, print, web-based, and remote audiences at the local, state and national levels. Dr. Beysolow led the U.S. Childhood Immunization Schedule Working Group from 2011-2014 as the CDC representative to the ACIP (Advisory Committee on Immunization Practices). Since 2020, Dr. Beysolow has served as an educator and Chair of the EPIC Immunization Advisory Committee for the Georgia Chapter of the American Academy of Pediatrics, educating health care providers across the state of Georgia on immunizations and also serves as the Georgia Chapter's Immunization Representative to the National AAP.
Laurence S. Sperling, MD, FACC, FAHA, FACP, FASPC, Executive Director, Million Hearts Initiative, Division of Heart Disease and Stroke Prevention Centers for Disease Control and Prevention and the Center for Medicare and Medicaid Services
Dr. Laurence S. Sperling is the Executive Director of the Million Hearts Initiative for the Division of Heart Disease and Stroke Prevention at the Centers for Disease Control and Prevention and the Center for Medicare and Medicaid Services. He is the Founder and was the Director of The Heart Disease Prevention Center at Emory Healthcare. Dr. Sperling is currently the Katz Professor in Preventive Cardiology at the Emory University School of Medicine, and Professor of Global Health in the Rollins School of Public Health. He served as the President of the American Society for Preventive Cardiology from 2014-2016, served on the writing committee of 2018 the ACC/ AHA Guideline on the Management on Blood Cholesterol, and served as Chair of the World Heart Federation writing group on the Roadmap for Cardiovascular Disease Prevention among People Living with Diabetes. Dr. Sperling was the recipient of the 2017 Award of Honor from the Alumni Association of Emory University School of Medicine. He has received awards for excellence in teaching (including 4 Golden Apple Awards and The Dean's Teaching Award), mentorship (Emory SOM 2018 Mentorship Award), and the R. Wayne Alexander Research mentor award. He has authored over 350 manuscripts/ abstracts/ books, and has been an invited speaker on every continent except Antarctica.
Moderator:
Kristen Hobbs, MPH, CPH, Director, Quality Improvement & Equity, Center for Sustainable Health Care Quality and Equity, National Minority Quality Forum
Kristen Hobbs is responsible for the oversight of quality improvement and education projects for a variety of therapeutic areas. A senior-level public health professional with experience in epidemiology, public health program evaluation, public health program development and implementation, and partnership development, Kristen is proud to champion the advancement of health equity and believes in the value of implementing epidemiologic principles for the design, implementation, and management of evidence-based public health interventions. Before joining NMQF/SHC, Kristen worked at Susan G. Komen Headquarters as Senior Manager of the African American Health Equity Initiative. She served at Komen for five years and held varying roles as an evaluator and subject matter expert in the development and implementation of the initiative. Prior to Komen, Kristen worked with the Institutional Review Board and Institutional Animal Care and Use Committee of Saint Louis University on accreditation efforts, survey development, research, and analysis. She also worked for the Saint Louis County Department of Public Health's Communicable Disease Control Services Division to evaluate and monitor the department's perinatal hepatitis B program, conduct epidemiologic surveillance of infectious diseases, and refine behavioral health marketing messages for STD prevention and awareness in north St. Louis, Missouri. Kristen earned her Bachelor of Science in Biology and Chemistry from Texas Woman's University and her Master of Public Health in Epidemiology from Saint Louis University.