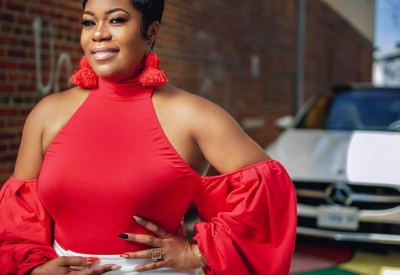 Co-Owner, Perfect Styles Academy and Salon LLC
Founder of SheerBoss Cosmetics LLC
styleseat.com/TerrieBranch
branchandbrooks.com
Bbconsultingsolutions@gmail.com
strongwomanofcolor@gmail.com
Social handles:
Facebook: Author Terrie Branch and The Marley Collection
Instagram:  @AUTHOR_TERRIE_L_BRANCH and @the_marley_book_collection
Twitter:  @BossladyTerri
Pinterest: Strongwomanofcolor
Terrie Branch is a Hampton, Virginia native, who wears many titles. Of those titles, she is a published author. Her author journey began, with her first book  "The Game From A Woman's Perspective", which was subsequently received with great reviews! With the success of her first book,  she went on to pursue her next writing project. Soon after, she signed with "Kiki Swinson Presents:", where she released her "Gotta Be Sheisty" series in 2015.  After which, Terrie's literary career started to skyrocket rapidly, when among other opportunities; she was invited to write an anthology with other successful authors from all over the U.S.  The first anthology,  entitled  "A Hood Summer Night's Dream" (released in April 2016), followed by Anthology "Sex Therapy"(released in summer  2016). In addition to the release of Both anthology releases in 2016, Terrie also completed her fifth book, "Choose Your Poison". All of her 2016 projects (both Anthology works, as well as "Choose Your Poison") and the re-release of the "Gotta Be Sheisty" series (trilogy), were all under Shaunta Kenerly Presents (Kenerly Publications). Her later releases include a collaborative project with Author Justin Q Young entitled "Playing with Fiyah" and "Fiyah Starter", as well as "Damaged Goods", an Anthology, dedicated to Domestic violence. If she could choose a favorite book, she'd have to pick "Marley's Coat", a Children's book about her beloved dog Marley, that teaches a lesson on sharing! Her latest release is: "Death By Chocolate"
Her author-related accolades include; her novels being placed in Amazon's "Top 10" authors, Amazon's "Best Seller Urban Fiction", Amazon's Best Seller (Fiction/Anthologies March 2016), and Amazon's Best Seller Literature Collections (March 2016). She was chosen as one of UBAWA (Urban Books, Authors, and Writers of America)'s Top 100 Best Authors of 2015 (also the cover featured author for the September 2015 issue of the UBAWA magazine based out of Los Angeles, CA). Terrie was featured in the February 2016 issue of Pen'Ashe Magazine, as well the August 2016 publication of Writer's Digest's "Writer's Market", which features some of Author Terrie L. Branch's quotes. She was featured on the cover of "Strawberry Lit Magazine"(September 2017)  Look out for her, in an upcoming issue of (Work Your Business) WYB Lifestyle Magazine!
Author, Terrie L. Branch's books, are in circulation in several libraries including; Newport News, Richmond, and Suffolk libraries (in Virginia), and Kansas City, KS Public Libraries, as well as the Library of Congress.
Terrie was awarded the "Best Selling Author" award, at Motor City Book Experience (August 2016) in Detroit, MI. She received the "Hardcore Writer" award, at Divaz Luncheon and Literature (March 2017, Atlanta, GA).
Another hat, that Terrie wears, is that of motivational speaker. Those who know her can attest to her ability to naturally uplift! She's done the following speaking engagements; "Dream Hall Empowerment Conference" (featured in Visual Biography Video December 2015). "The Complete and Mature Woman Empowerment Conference" ( motivational speaker, Full Gospel Kingdom Church, Newport News, VA February 2016). "Express Yourself", Paint Night for the FGKC Ladiess (motivational guest speaker March 2016, received honorary plaque). Terrie was the featured speaker at the Sisters By Choice  presents: "Discovering Your Beauty July 2016
(Stratford University, Newport News Va). Terrie was one of the organizers as well as featured speakers for the "Pack Light Empowerment Conference" (November 2016). Divaz luncheon and Literature (Eat and Greet-Atlanta Airport Marriott Gateway), held an event, where Terrie was a featured guest and speaker ( March 2017). After this feature, she was inspired to launch her motivational T-SHIRT line "PRAYLIKE A BOSS" in 2017.
She has been invited to/ featured on  book tour in many cities including Silver Spring, MD, Detroit,MI Chesapeake, Va; Suffolk, VA; Atlanta, GA, District  of Columbia, Columbus, OH; with upcoming features in upcoming tour dates, Chicago Illinois and Baltimore Maryland!
Her schedule included her as a featured Author for the following events:
Barnes and Noble  5100 Kilgore Avenue Hampton Virginia October 22, 2016 (book signing).
BROWN girls in Business Summit feature courtesy of Brown Girl Billionaire Gang.
She also had to pleasure of reading "Marley's Coat" at Calvary Chapel Academy in Newport News, Virginia, with her real life dog Marley (who the main character is based on) was a special guest!
After completing her 12th book, "Marley's Coat", Terrie used her writing skill, and knowledge to start, what is now "Branch and Brooks Publishing and Consulting Solutions", a firm dedicated to assisting new and seasoned  authors in fulfilling their vision for their next book!
Above all else, Terrie takes pride in being a mother to her two sons (Donte' and Shaquille),  while walking by faith & standing and believing in God's word. She is forever grateful for having so much support from her loving family and friends.  She has spoken at many conferences and events. Walking by faith, Terrie's vision has now been birthed for over 35 years, with more yet to come!
Currently, Terrie is a; serial entrepreneur, professional hair stylist, licensed barber and instructor, Professional makeup artist, wardrobe stylist,  as well as mentor to many throughout the Hampton Roads area. She has been featured in international hair magazines throughout the years, Sophistcate's Black Hair Mag, Sherise Magazine, Hair in Motion, Extreme Magazine, Black Passion Magazine, Barber Passion Magazine, and Tha Look Magazine. She is co-owner of Perfect Styles Beauty and Barber Salon, Perfect Styles Beauty and Barber Academy LLC, and Letz Play LLC presents: PlayDate Hampton Roads (an event franchise based in Atlanta)
She became a member of the Hampton Roads Writer's Association in March 2016. She also serves proudly as a member of the Newport News branch of the NAACP. She served as the Newport News Branch-NAACP supervisory election committee chairman (2020), served on the WIN (Women in NAACP) committee (2019) and currently serves as 2020 Membership Committee Chairman.
Through her many accomplishments, Terrie also started her own Cosmetic line, SheerBoss Cosmetics, in 2014. On top of her busy schedule, she took interest in becoming a Commissioned Notary Public (where she has served over 5 terms) as well as,  Home Staging and Interior Designing. She has worked as a freelance makeup artist in 2010 for MAC Cosmetics (with new business ventures on the horizon, be on the look out!). Terrie's life motto is, "I can do all things through Christ whom strengthens me!"